It's true when people say plants make people happy. Our purpose is simple: to make you ecstatically happy via Indoor Plants.
Indoor Plants can instantly beautify a space, but did you know they can also contribute to your wellbeing? The presence of plants can boost your mood and reduce your stress levels – bringing tranquility to your space – while also producing oxygen and filtering the air you breathe. That's right! Our little green plant fronds are helping to increase our quality of life by reminding us to take care of ourselves too.
To also share their favourite ways to practice self-care every day, we have collaborated with the self-care experts at Natural State whose mission is to encourage us all to find those moments of self-care in the most sustainable and conscious way.
Many studies have shown an association between indoor plants for mood, health, and happiness.
Indoor Plants & Self Care for Mental Health
When it comes to mental health, indoor plants can help in countless ways including reducing anxiety, reducing stress, improving focus, and decreasing symptoms of depression. The same can be said about engaging in a self-care routine. Taking good care of yourself has been proven to also reduce or eliminate anxiety and depression, reduce stress, increase happiness and much more!
It's a common misconception that practicing self care takes time and forces you to make a choice between your daily commitments and looking after yourself. But that doesn't have to always be the case. The most sustainable way to add self care into your life is to integrate it into everyday moments. Taking those mundane tasks like washing your hands and using this time to slow down, breathe and be in the present moment.
Next time you wash your hands, try a mindfulness exercise called 5 senses. The feeling of washing your hands with hand wash combined with the unique fragrances, helps activate our senses and become more in touch with our senses.
Think of something you can smell with your nose

Think of something you touch with your hands

Think of somethin gyou can see around you

Think of something you can hear nearby

Think of something you can taste with your tongue
When indulging in selfcare using indoor plants for mood, make sure you are using the real deal. The plastic stuff does not quite do the trick. Recent studies show students' brain scans showed them to be more attentive in a room with real plants than faux ones! Some of the best mood boosting plants include our Happy Plant, Peace Lily and Philodendron Congo.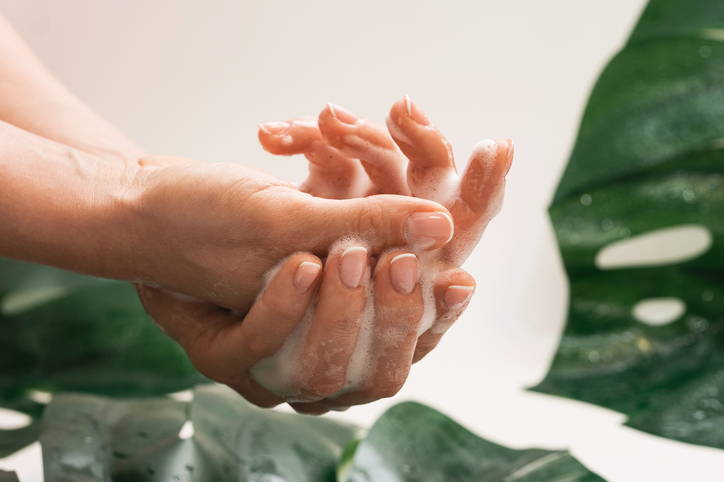 ---
Indoor Plants Improve Focus & Productivity
Plants and natural elements help boost a person's happiness in all sorts of ways. As mentioned above, using indoor plants for mood can decrease feelings of anxiety and stress. But plants are also known to improve focus, productivity, job satisfaction and job commitment.
Research shows that plants in the workspace boosted employees' overall happiness and commitment to the job. This change in mindset could be due to the levels of CO2 in the workplace. Oxygen created by indoor plants can help reduce carbon dioxide, allowing employees to focus and think more clearly.
In addition to plants, fragrances can play a huge role on our mood too. When we are feeling flat and need a 'pick me up', a fresh and uplifting fragrance like Grapefruit & Yuzu can help boost our energy levels. Or if we are stressed or worried and need to feel calmer, a smooth and rich fragrance like Vanilla Caramel can help reduce our help rate, lower blood pressure and improve our mood.
Whether you are working in an office or at home, adding a reed diffuser of your favourite calming fragrance will create a slow, long-lasting fragrance to keep your stress and anxiety levels down. Or if you need a quick pick me up, a spritz of fresh and invigorating room spray will instantly improve your focus and productivity.
Indoor plants help us get a breath of fresh air, literally. Some of the best air purifying Indoor Plants to keep at your desk or workspace include our Philodendron Birkin, Spider Plant and Sansevieria Hahnii.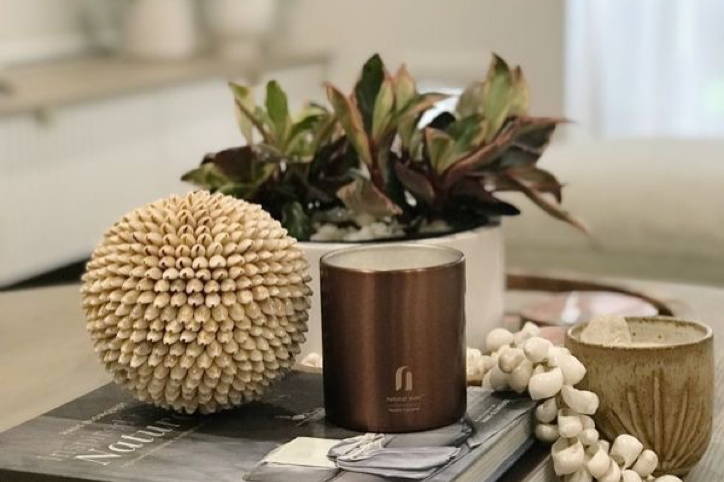 ---
Indoor Plants for Physical Health
With so many of us now working from home or spending much more time inside, it can be difficult to find creative ways to move our bodies that won't take up too much space in our busy schedules. If you're not a gym-goer, you can increase your daily steps thanks to your indoor plants.
Instead of grouping your plants together in one room of your house, try separating them into different rooms. Checking in on them will force you to take those extra steps and work your muscles. Another great way to get your body moving is to move your plants around. As temperatures start to change outside, they also change inside. As you notice these changes, this is the perfect time for you to pick up your plants and relocate them throughout your home. This will ensure your plants remain in their ideal conditions to thrive while helping you to keep moving around. Some of the best plants to help get you moving include our Fiddle Leaf Fig, Giant Bird of Paradise and Lady Palm.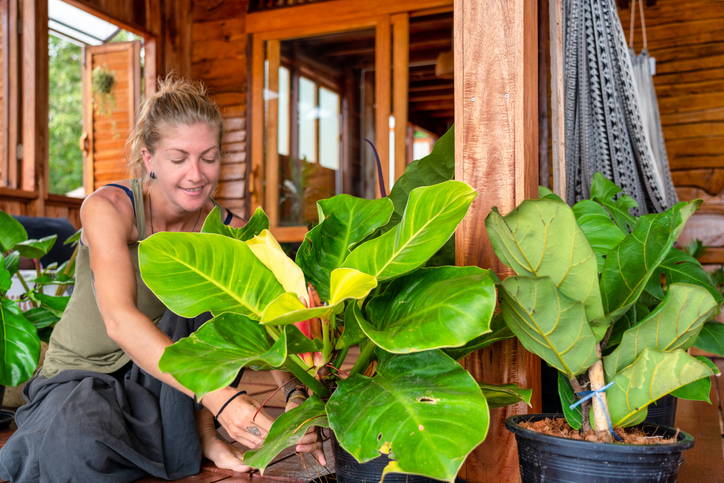 Paula from Natural State says that "one of our favourite ways to improve our physical health without starting a brand-new fitness routine is to simply add a 1-minute cold shower to our morning routine. We recommend enjoying a warm shower first and moving to 1 minute of cold at the end and use this time to stand and focus on your breathing. Over time, you may find you can increase the duration and intensity of the cold water".
Studies have shown that cold showers can heighten our immune system, increase blood circulation, improve our hair and skin as well as reduce muscle soreness.
All in all, there are no one-size fits-all solutions for selfcare, however we think that Indoor Plants and taking the time throughout your day for a little selfcare is an excellent way to start.
Indulge in Self Care and get your Indoor Plants and Natural State products delivered straight to your home or office!

---

Still not sure on the perfect Indoor Plant for you? Take our Plant Quiz to find your perfect Indoor Plant or shop all our Indoor Plants HERE.

Watch our easy guide on how to become the best Indoor Plant parent you can. Head over to our YouTube channel to get started. Your Indoor Plants will thank you, we promise!
---